Barbecuing and outdoor grilling is a must-do summer program, in good company with the real variety of marinated delicacies and salads. Although meat is the first thing that comes to mind about grilling (At least in our case sure :)), it's also worth trying the meat-free ingredients. Experience has shown that they always run out first!
Everyone has a well-proven recipe, but we also worth trying something new from time to time. Beyond the meat, it's worth experimenting with, because, in the case of a big grilling party, you will almost certainly find someone who shows no interest in meat, sausage, or bacon. Not to mention carnivores can also enjoy vegetarian grilled dishes as a side dish.
Let's grill cheese!
Grilled cheese is always a popular dish – whether it's accompanied by a hearty salad, tomato rings, or fresh raw vegetables. But when will it be perfect? Put some edami and other so-called semi-hard cheeses (mozzarella, scamorza) in sandwiches, grate them on the salad, but don't grill them! Only varieties that are hard or offered specifically as grilled cheese are suitable for this purpose.
One of the best-grill cheese is from Cyprus the name is halloumi cheese. This highly salty cheese, usually made from cow's milk enriched with both goat's and sheep's milk, also exists in a flavored form with natural or green spices (often with a little mint). Cut into slices about 1 cm thick, smeared on both sides with a little oil (if not made outdoors, it is enough to spray a little oil in the pan) toasted until golden brown, served with fries or salad. Mixed salads with mayonnaise and yogurt sauce go great with it, but a thyme and mayonnaise fries salad is also a hearty and nourishing dish. Since the halloumi is salty, lightly season the garnish!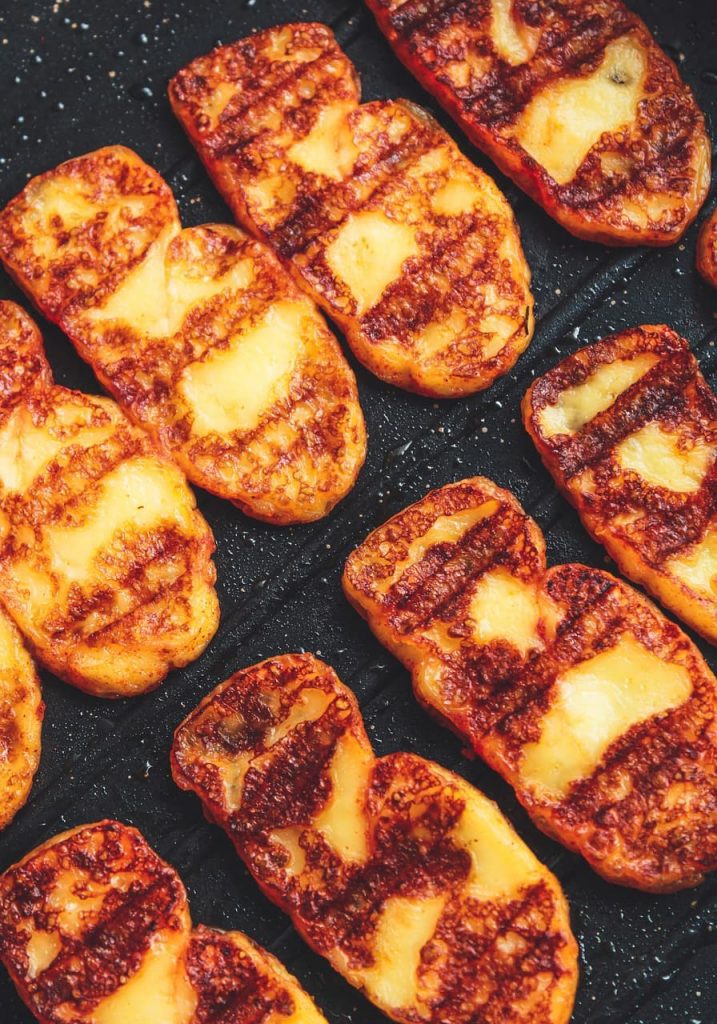 If you get hard goat cheese, it's definitely worth trying either grilled in the pan or grilled outdoors. The cheese sticks easily to the bottom of the pan, it doesn't hurt to smear it with oil or oily marinade. When baking cheeses, it is advisable to place aluminum foil or a baking tray on the grill. Here, too, the garnish can be almost anything from the well-proven cucumber salad to the cabbage salad and the tomato salad, and a slice of fresh bread comes in handy.
If you choose grilled cheese that is not too hard and not a very strong taste, it is advisable to marinate it the day before it is baked – not only will it taste richer, but you will don't need to add special fat.
The marinade, made from a blend of olive oil, garlic and fresh rosemary, is a perfect match for any cheese. It's worth making sure that no matter how much you prepare, the marinade will always cover perfectly, forming an airtight barrier layer over the cheese slices.
It is important how we cut the cheese. If we put camembert cheese or softer goat cheese on the grill, don't cut it up. Wrap in lightly oiled aluminum foil, and stick garlic cloves into it, so we put it on the grill. When the middle is melted, we serve it with bread or pastry.
And the sliceable types should not be cut too thin, the thickness of 0,5-1 inch is ideal for grilling.
Mushrooms, onions, and potatoes!
Mushrooms
The mushrooms are all great for outdoor roasting and grilling. The basic rule is to eat only mushrooms fresh and reliable or tested by a mushroom expert! Larger mushrooms are ideal for grilling and should be matured in a spicy marinade for a short time.
Ideal green spices for mushrooms include thyme, basil, and rosemary. In addition to these, you can put in the marinade pepper or chili, who prefers garlic more (in moderation). As the water content of the mushrooms is extremely high, this means unavoidable liquid loss during baking and grilling. To prevent our mushrooms from collapsing, fry them for a short time and, depending on the variety, cut them in half lengthwise or fry only their hats – healthy stumps can also be used in soups and stews.
Onions
Grilled onions can be the perfect accompaniment to either baked potatoes stuffed with spicy cottage cheese or meat. For grilling, it is worth choosing onions or red onions about 1-3 inches in diameter. After cleaning, it can even be cut into thick slices, seasoned with salt and a little pepper, sprinkled with oil, it can go on the grill, in a pan, but we can also quarter it. In the latter case, it is worth seasoning before baking. If you want it to caramelize nicely, sprinkle it with a little salt, sprinkle it with finely chopped thyme, and a breath of sugar. The natural sweetness of the onion can be perfectly enforced with this little help, but the end result will not be sweet, it just forms a golden coating on the onion cloves. If it is left in an oily-spicy marinade beforehand, it will be even tastier!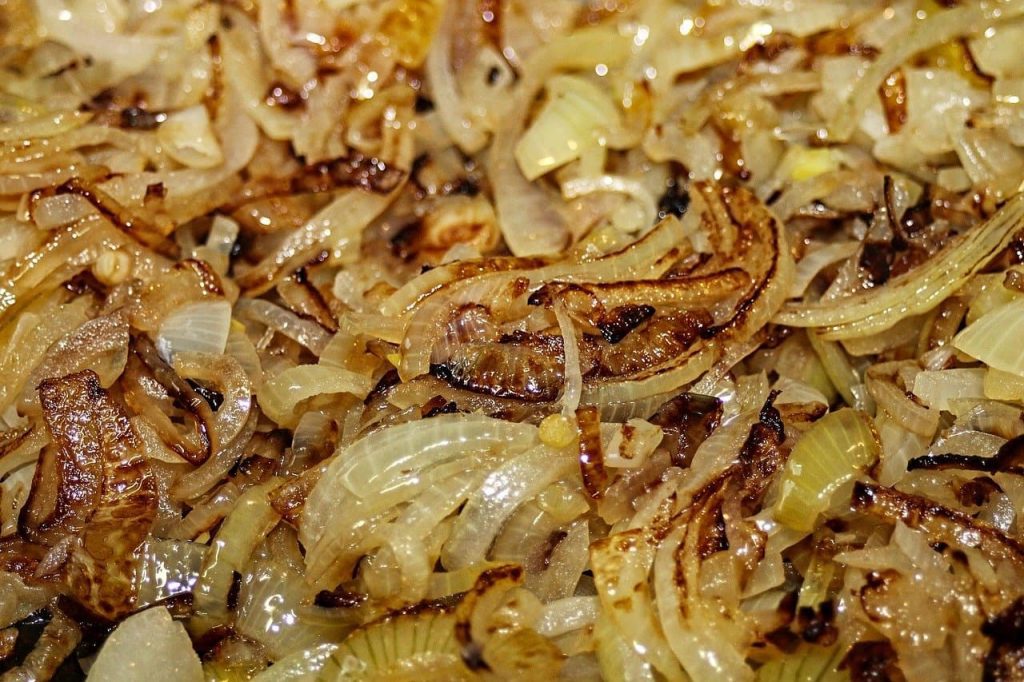 Potato
There are two common methods for grilling potatoes. We wrap the large potatoes in foil and grill them until soft. We can put it on the grill at the beginning if we have so enough space, but don't forget to rotate it from time to time. It needs around 30 minutes.
If you want to get to grilled potatoes faster, cook the not-too-large potatoes in the peel for 10-12 minutes, then circle them to about 0.5 inches thick, toss them with oil and throw them on the grill or pan – they are also perfect from new potatoes. Add salt at the end.
If you are not working with new potatoes, always choose a flour type with lower water content.
For the potatoes, we can offer sour cream or cottage cheese seasoned with chives, parsley, and cress, for which it is worth sprinkling little roasted pumpkin seeds – heavenly!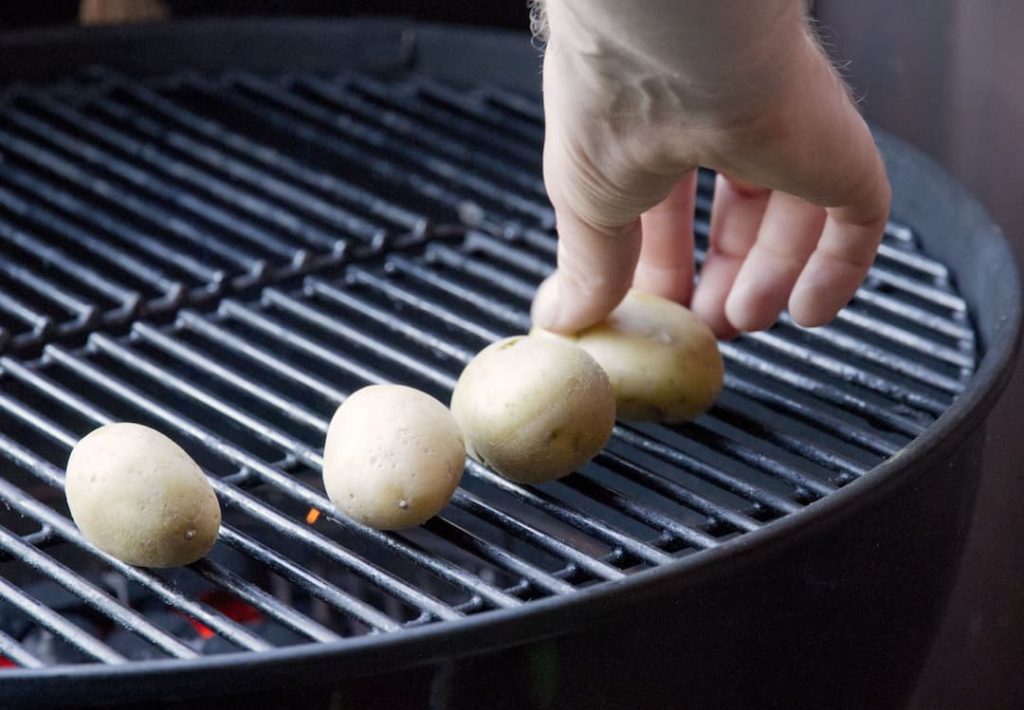 Veggies on the grill
The favorite vegetables for grilling are arguably eggplants, peppers, tomatoes, tender squash, and zucchini – one is tastier than the other, essential elements of a barbecue party.
Each can be fried sprinkled with oil, naturally, or sprinkled with a variety of spice mixes (the ready-to-use grill spice mix is just as suitable as our own combination). It is also worth marinating the vegetables to make them even tastier. In the case of these, however, the process is not nearly as time-consuming as in the case of meats, and it is not advisable to leave them in the marinade for more than 1 hour.
We can also make a marinade with a mixture of oil and mustard, as well as salt, pepper, and almost any finely chopped green spice, with which we smear the aubergine, zucchini, sliced or cut into rings. However, a simple oily marinade, flavored with garlic and rosemary and made more spicy with lemon or wine vinegar, is also perfect. After only 15-20 minutes, the vegetables take over the aromas of the spices.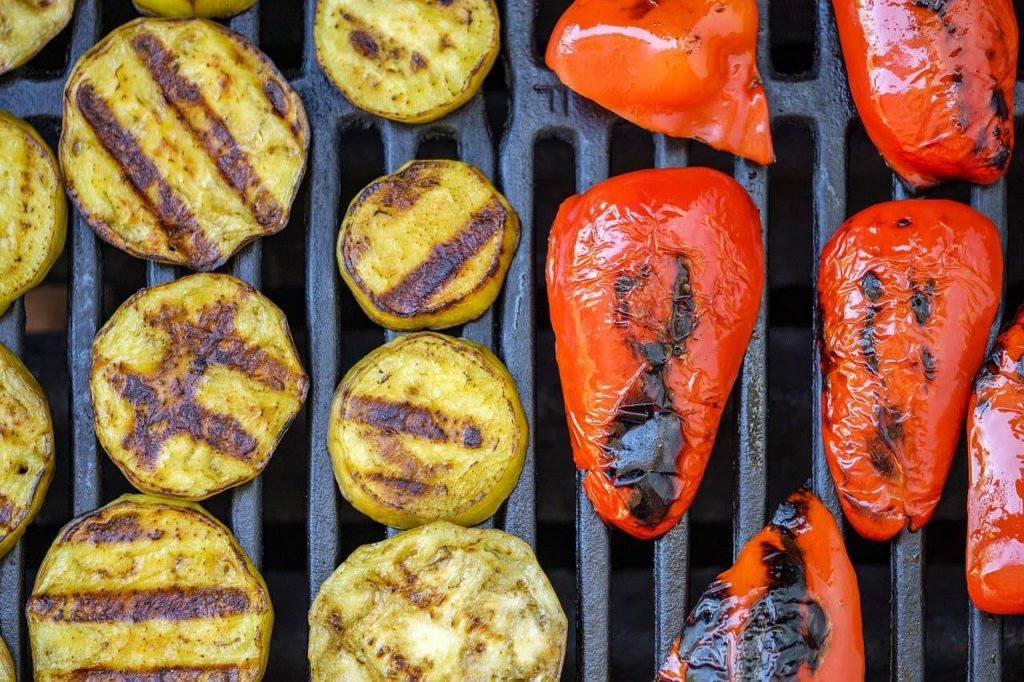 Eggplants
When marinating and grilling eggplant, it must be taken into account that the eggplant acts as a real sponge – it absorbs the oil thoroughly, so do not let it stand for too long. According to the old method, it is advisable to salt the eggplant rings or eggplant slices for 1 hour to leave the bitter juice, but the truth is that the eggplants available in recent years do not require it at all. They are not bitter, so they can be prepared in a time-saving way. All you have to do is salt, season, or marinate and you're ready to bake!
Paprika
The grilled paprika slices sprinkled with garlic and olive marinade, and sprinkled with freshly ground pepper are also perfect with yogurt dipping sauces and green spicy cottage cheese. The more varieties made, the tastier and more colorful the grilled pepper bowl, which can be sprinkled with a little lemon juice and oil afterward. Our ultimate favorite is the grilled jalapeno, try if you like it a little spicier.
Tomato
Always choose a hard, sun-ripened variety from tomatoes. Plum or Lucullus tomatoes are ideal grilled. Large early summer tomatoes will also be extremely tasty if cut in half, scrape off the seeds and juice with a teaspoon, lightly salted, sprinkled with a few drops of balsamic vinegar or balsamic syrup, sprinkled with fresh basil leaves.
Zucchini
When grilling zucchini, do not peel it, just slice it at an angle, season it or marinate it, and then grill it. The distinctive green spices perfectly match the neutral taste of the zucchini. Sprinkled once with basil, sometimes with dill, and third with tarragon, it's like grilling three different vegetables. Of course, smeared with olive-garlic olive oil flavored with a little lemon juice.
Corn
In the case of corn, it can be grilled, wrapped in aluminum foil, sprinkled with pieces of butter, or skewered. Afterward, you can salt and pepper to your liking.
Barbecue skewers
Barbecue skewers are easy to make using a variety of vegetables and mushrooms – the point is to get vegetables cut to roughly the same size. Colored skewers made with pickled vegetables are so tempting already during cooking that it is often difficult to wait until they are cooked to perfection. You can get pre-cooked potatoes, red, thick-fleshed peppers, zucchini, onion rings, mushrooms, and even a cherry tomato or a piece of milky corn, you're sure to be happy with whoever gets it on their plate!
Alternatives for leftover grilled veggies
Grilled vegetables – if made in larger quantities – can even turn into a fantastic salad. It can be easily prepared from the already chilled grilled peppers, zucchini, eggplant with fresh tomato rings, pickled dressing, lots of fresh green spices (oregano, basil), and a little garlic, and the garden grill salad is ready.
You can make a great sandwich or bruschetta with grilled vegetables – we can richly pack the fried eggplant, zucchini, mushrooms, and even cheese by toasting the bread pre-sprayed with olive oil in a matter of seconds.
Grilled fruit? Sure!
In addition to vegetables, fruits are also worth grilling. Apples, pineapples, peaches or pears certainly don't disappoint when grilled, say served with a little vanilla ice cream.
If you have a wide variety of fruits in the house, you can skewer the ingredients cut into roughly the same size. From strawberries, grapes, plums, apples, or peach cubes we can make not only colorful but also delicious and healthy skewers. It is best to caramelize by dipping in a little sugar. Served with chocolate sauce, vanilla sauce or ice cream, success is guaranteed. If you want a spectacular dessert baked in a grill pan, you can also flambé the fruit.
Once you've fired up your grill – it's worth making as much of it as possible!